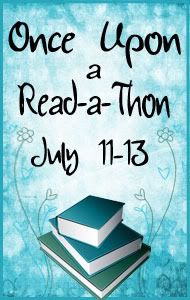 This page will be updated throughout the read-a-thon with the mini challenges and updates.
Day #3
Today I've finished
Darklight
, and I think I may just have to go out and buy
Tempestuous
because I NEED to know what happens next!
I'll update again at the end of the day to let you know what else I've finished reading.
Mini-Challenge #3
This challenge comes from
Books from Bleh to Basically Amazing
and asks for book recommendations. One from any book we've read, and one from our readathon challenge.
Recommendation #1
The Looking Glass Wars
by Frank Beddor
Lewis Carroll may have been on drugs when he created the fantastical world through the looking glass, but Frank Beddor is able to make the acid-trip make sense. This is a retelling of Alice and Wonderland that spoke to my soul. You get to see Wonderland for what it really is--a place where imagination can thrive. Alice becomes so much more than a lost girl, she becomes a strong heroine trying to adapt to a world that she was never meant to live in. And the romance...the story doesn't DEPEND on it, but is enriched by it. But I don't want to ruin anything--you'll have to read it yourself.
Recommendation #2
Wondrous Strange
by Lesley Livingston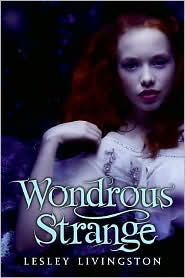 If you love characters that aren't idiots, you should read this book. If you love in-depth plot and characterization, you should read this book. If you love A Midsummer Night's Dream, you should read this book. Even if you don't love Midsummer, you should read this book. If you love adventure, swoon-worthy romance, cute boys, mystery and cute boys, you should read this book. And there are faeries. Powerful, beautiful faeries. Need I say more?
Day #2
Books finished:
Re-Gifters
--a little difficult for me to get into, but turned out to be a pretty decent story.
Wondrous Strange
--LOVED Kelley as a main character, and the mythology was brilliant.
Time: Not sure. 5-6 hours probably.
Mini-Challenge #2
This challenge comes from
The Bookish Type
. Pick any book from your readathon pile and write a fake synopsis based solely on the cover. The synopsis does not have to be related to the actual book at all, just the pretty, pretty cover.
I chose
Darklight
, the sequel to
Wondrous Strange
and the book I'll be reading next!
Veronica wasn't sure how she had ended up in the forest. Alone. In a gorgeous dress. With a glowing necklace. But then, her life never had been normal. As the daughter of a top fashion designer dad and ex-model turned photographer mom, Veronica was used to being whisked away to weird photo shoot locations and wearing even weirder clothes. But nothing about
this
place seemed familiar. She had to find her way home, and fast. She was supposed to audition for a much coveted role in a top rated TV drama, and she needed to talk to Brad about Prom. She was in the running for Prom Queen, so everything had to be perfect. Veronica had to find her way out before something, or some
one
, found her first.
Day #1
Monday wasn't a very productive day for me (as far as reading goes) because I had a conference all day.
Books finished:
Wicked Girls
--a great historical fiction/poetry novel about the Salem witch trials. I will definitely be using this in my classroom.
Time spent reading: 3 hours

------------------------------------------------


This challenge comes from
IB Book Blogging


Mini Challenge Question 1:
What is your favorite type of myth (Greek, Roman, Egyptian etc)?
Greek mythology all the way! In 6th grade I even taught myself the Greek alphabet, and wrote notes to my friends in Greek.
Mini Challenge Question 2:
What is your favorite book with some type of mythology in it?
Ooh, tough choice. I really enjoyed the Percy Jackson series, but I also really like
Psyche in a Dress
by Francesca Lia Block. I still haven't read
Abandon
or
The Goddess Test
yet--I'm hoping I will like those as well.