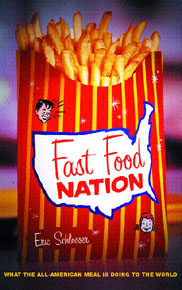 Fast Food Nation: The Dark Side to the All-American Meal
AUTHOR: Eric Schlosser
PAGES: 399
GENRE: Nonfiction
DATE PUBLISHED: July 1, 2005
SUMMARY from Goodreads:
Fast food has become a veritable American institution, with restaurants serving a quick bite in every strip mall and roadside rest area across the country. But, according to Fast Food Nation, the fast food establishment has been serving up much more than just cheap hamburgers and greasy fries. In compelling fashion, author Eric Schlosser traces the growth of fast food chains after World War II and condemns the industry for giving rise to such cultural maladies as obesity, classism, American global imperialism, and environmental devastation.
MY REACTION:
I loved this book. It was the perfect combination of humor and facts. It is very informational, but holds attention with the topic and style of writing. I feel like it made me smarter, but it wasn't like reading a textbook either.
This is a very well researched book. The author brings in studies, statistics, and pictures. The format of the book is him telling what he learned. He traveled across the country visiting restaurants and interviewing people. He not only shares the information from the interview, but also how the people acted and what his personal impression of them was. He interviews everyone from farmers to fry cooks and from slaughter house workers to teenage cashiers.
This book covered everything you would want to know about the fast food industry. It talked about the science behind making the equipment and having efficient machinery, and covers the marketing and publicity and advertisements. It even discusses the founding fathers of fast food and how it all came to be. And, of course, it talks about the negative aspects, such as working for minimum wage and obesity.
I found it all so interesting and comprehensible too. I think it was a relevant book because we all eat fast food and some of us even work at them. We see the commercials, billboards, and merchandise. I really enjoyed reading this book.
Rating: