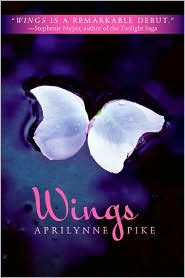 Wings (Wings #1)
Author: Aprilynne Pike
Pages: 320
Genre: Fantasy
Release Date: May 1, 2009
Summary from Goodreads:
Laurel was mesmerized, staring at the pale things with wide eyes. They were terrifyingly beautiful—too beautiful for words.
Laurel turned to the mirror again, her eyes on the hovering petals that floated beside her head. They looked almost like wings.
In this extraordinary tale of magic and intrigue, romance and danger, everything you thought you knew about faeries will be changed forever.
At first glance, Laurel is an ordinary girl, unexceptional in any visible way. But Laurel harbors a secret both wondrous and dangerous: She is a faery who has been called upon to guard the gateways of Avalon. Aprilynne Pike's first novel casts its own deep spell: Stephenie Meyer called it "a remarkable debut."
My Review:
I enjoyed Wings a lot. It wasn't a hard read and only took me a couple of days to finish. It was an enjoyable story despite being kind of unoriginal. It tended to follow the pattern of any romantic novel, with the two cute boys and the heroine stuck in the middle of a desperate situation.
Overall I thought Pike did a good job at creating an interesting story that you wanted to keep reading. It wasn't an "I can't put this book down and I just bit off all of my fingernails" kind of read, but it was interesting and enjoyable and it could easily hold an audience.
It bothered me a little how many "Twilight-isms" were found in this book. It has a love triangle between Laurel, the beautiful faerie girl, David, her friend from school, and Tam the mysterious faerie sentry. (Though I have to say that I find Laurel to be a much more agreeable main character than Bella.) I also found the love of the two boys a lot less creepy then in Twilight. They weren't creepily following her around and insisting that she could only be happy with them. They both just want her to be happy. (Cliché I know)
I really liked Pike's characters. They had a lot of fun personalities and interesting interaction between them. They all reacted naturally to each other and didn't act fake like some characters do. My favorite character, though, is Chelsea. Her sometimes brutally honest attitude is interesting and entertaining. She made the perfect complimenting friend for Laurel, who can be very guarded and almost shy.
This book was definitely a girly book. There are parts that I think guys would enjoy, like fighting with trolls and driving like maniacs, but I wouldn't tell a guy he'd love it based only on that. I thought the book was very entertaining and a great debut story. I can't wait to read the next one.
My Rating: